How to Clean a Playroom
Seriously Clean the Playroom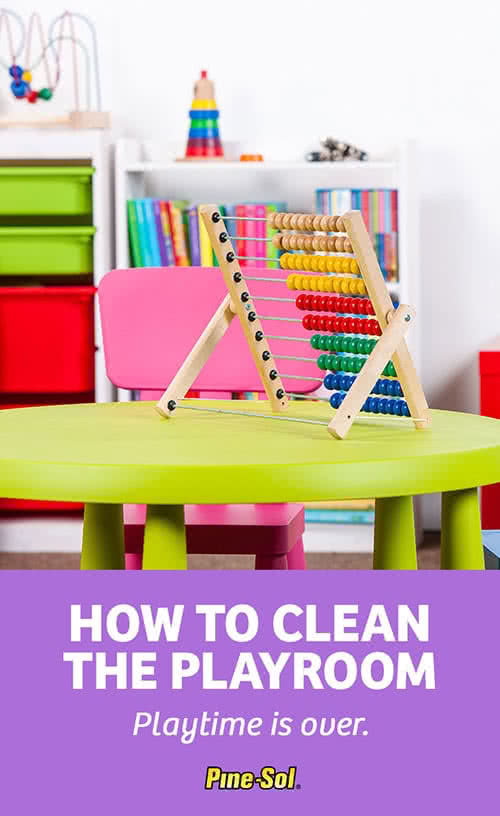 Steps For An Expert Clean
Clean the playroom and get kids messes wiped up with Pine-Sol. Learn how to clean the playroom and disinfect toys with our multi-surface cleaner.
How to Clean Plastic
Plastic is a staple in playroom furniture and toys, and tends to get grubby quickly. Start off by giving all the plastic in your playroom a good de-gunking.

How to Clean Wood
Use Pine-Sol® for quick wipe-downs on wooden tables and chairs, or for periodic deep-cleans on wooden floors and furniture.

How to Clean Walls
Got a Picasso on your hands who fancies him or herself a muralist? Or just a case of grimy handprints or smudges on the walls? Give those walls a Pine-Sol® wash-down.

How to Clean Fabric and Laundry
Give Original Pine-Sol® a go on the stains and spots that find their way into your kids' laundry hampers. You'll never fear grape juice again.

How to Clean Carpet
Carpet collects its share of battle scars keeping little feet warm and cushioning rough play. Get at carpet or rug stains with Original Pine-Sol®.
Ingredients
Zap germs with Original Pine-Sol®, or use Pine-Sol® Lavender Clean® for a calming playtime scent.

Spray Bottle

Sponge