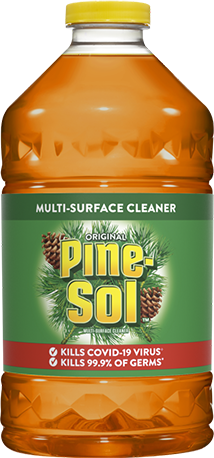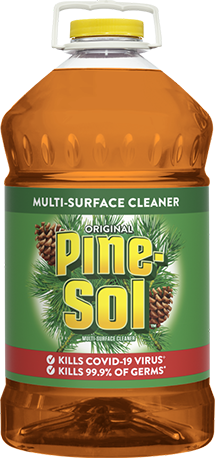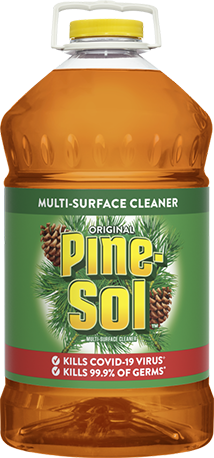 24oz
40oz
48oz
60oz
100oz
144oz
175oz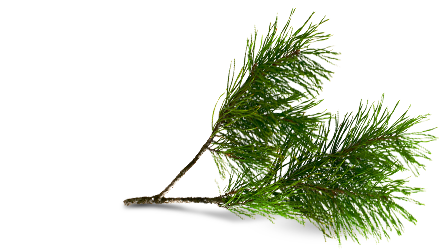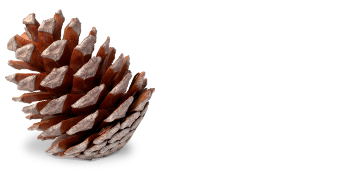 Kills
Covid-19
Virus*
Pine-Sol® Original
Kills COVID-19 virus*
Disinfects and kills 99.9% of germs†
#1 pine-scented dilutable cleaner‡
Powerfully cleans
Deodorizes and has a clean, fresh scent
Longer-lasting scent
Even stronger on bathroom soils (soap scum, rust and hard water)
* Kills SARS-CoV-2 on hard, nonporous surfaces. Use as directed for other germs.
† Salmonella enterica, Staphylococcus aureus, Influenza A virus
‡ Based on IRI sales data dated 2/24/2019.
KILLS 99.9% OF GERMS*
SAFE ON YOUR SURFACES*
You can use Pine-Sol® cleaners on hard, nonporous surfaces, including floors, sinks, counters, stoves, bathtubs, shower stalls, tile and more!
*Follow use directions before use
Directions for Use
General Cleaning and Deodorizing: Use ¼ cup per gallon of water. No rinsing required except on rubber or asphalt tile. For tough jobs, use full strength and rinse immediately. For no-wax floors, only use diluted and rinse.†
Disinfecting: Apply disinfectant product with a clean sponge or cloth, full-strength on hard, nonporous surfaces. Wet surface, let stand 10 minutes, and then rinse. For heavily soiled surfaces, remove excess dirt first. Toilet Bowls: Pour ½ cup in the bowl and brush thoroughly, including under the rim.
Laundry: Rub in full-strength on grease spots or heavily soiled areas before washing. For extra cleaning and deodorizing power, add ½ cup to load. Use only on white or colorfast fabrics.
†Do not use on marble, aluminum, or wood that is unfinished, unsealed, unpainted, waxed, oiled or worn.
Resources
Overall Product Rating
Rated

5

out of

5
by
Dinosquad3
from
Perfect for getting stains out of cloth diapers !
We started using pine sol original in with our laundry because we cloth diaper and my youngest son got a yeast infection. we were told we had to bleach all his diapers and i just knew that would ruin them. so I did some research and found that pine sol not only does the same things as bleach but does it even better ! we now no longer have stains on our boys diapers we also dont have any stink !
Date published: 2023-03-15
Rated

5

out of

5
by
Cre8tive
from
Fresh, quick clean ups like you worked all day!
I've used this forever because to smells so fresh and clean. If you have unexpected guests on the way, it's so easy to touch up the bathroom and make it clean and fresh smelling. I pour a little in my outdoor garbage cans each time they are emptied to fight odors too.
Date published: 2023-02-18
Rated

5

out of

5
by
Mya28
from
Amazing product!
It's so versatile I can use it for so many things. Floors , counters, It smells fantastic and one bottle lasts a while too!!
Date published: 2023-01-22
Rated

5

out of

5
by
RicnDeb
from
Pine Sol original
I like using this original scent of Pine Sol, it leaves a pleasant aroma and also cleans floors well without streaks or stickiness.
Date published: 2022-12-21
Rated

4

out of

5
by
User000001
from
Great features~
The best! Pine sol original I have been recommended by a friend.
Date published: 2022-12-03
Rated

5

out of

5
by
SmellyNelly84
from
I enjoy the smell of Pinesol Original Scent
I enjoy using Pinesol when I clean my home. It not only cleans dirt and grim off my floors and surfaces. It also has an amazing smell. I feel like the endangered leatherback turtle in the pine flat woods of the everglades. I suggest this product on everyones household cleaning list.
Date published: 2022-10-30
Rated

5

out of

5
by
Jules K
from
Lysol
Will be purchasing this again in the near future! Love
Date published: 2022-10-19
Rated

5

out of

5
by
Mzbassett
from
The only one that does the job!!!
This is the only one that does the driver says it's going to do I swear by this product no scrubbing no hassle clean bathroom fresh scent everything
Date published: 2022-10-12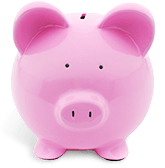 Value Tip

One Cleaner Many Uses

With Pine-Sol®, you only need one cleaner. You could spend a fortune on different cleaners

View All Tips