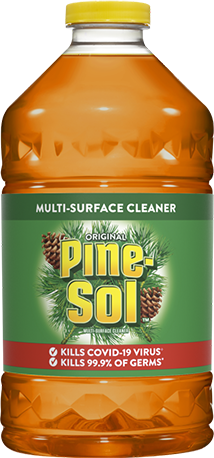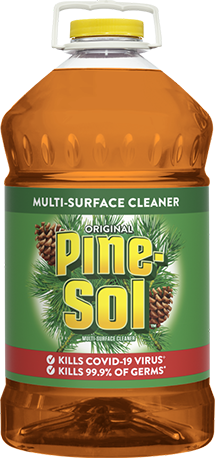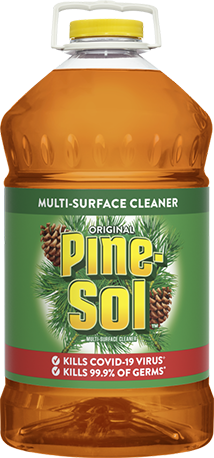 24oz
40oz
48oz
60oz
100oz
144oz
175oz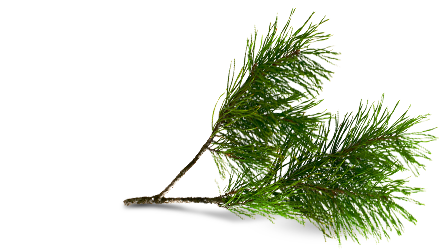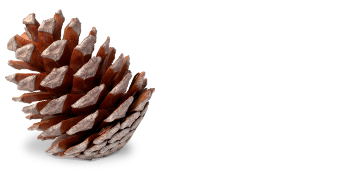 Kills
Covid-19
Virus*
Pine-Sol® Original
Kills COVID-19 virus*
Disinfects and kills 99.9% of germs†
#1 pine-scented dilutable cleaner‡
Powerfully cleans
Deodorizes and has a clean, fresh scent
Longer-lasting scent
Even stronger on bathroom soils (soap scum, rust and hard water)
* Kills SARS-CoV-2 on hard, nonporous surfaces. Use as directed for other germs.
† Salmonella enterica, Staphylococcus aureus, Influenza A virus
‡ Based on IRI sales data dated 2/24/2019.
KILLS 99.9% OF GERMS*
SAFE ON YOUR SURFACES*
You can use Pine-Sol® cleaners on hard, nonporous surfaces, including floors, sinks, counters, stoves, bathtubs, shower stalls, tile and more!
*Follow use directions before use
Directions for Use
General Cleaning and Deodorizing: Use ¼ cup per gallon of water. No rinsing required except on rubber or asphalt tile. For tough jobs, use full strength and rinse immediately. For no-wax floors, only use diluted and rinse.†
Disinfecting: Apply disinfectant product with a clean sponge or cloth, full-strength on hard, nonporous surfaces. Wet surface, let stand 10 minutes, and then rinse. For heavily soiled surfaces, remove excess dirt first. Toilet Bowls: Pour ½ cup in the bowl and brush thoroughly, including under the rim.
Laundry: Rub in full-strength on grease spots or heavily soiled areas before washing. For extra cleaning and deodorizing power, add ½ cup to load. Use only on white or colorfast fabrics.
†Do not use on marble, aluminum, or wood that is unfinished, unsealed, unpainted, waxed, oiled or worn.
Resources
Overall Product Rating
Rated

5

de

5
por
Maria
de
Me encanta
No cambio este producto por nada. Me gusta mucho porque limpia de verdad.
Fecha de publicación: 2012-09-05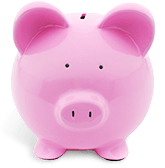 Value Tip

One Cleaner Many Uses

With Pine-Sol®, you only need one cleaner. You could spend a fortune on different cleaners

View All Tips