How to Clean a Kitchen
Knock Out Kitchen Mess
Your kitchen is the epicenter of fun, food and family — as well as the messy aftermath. When things get sticky — or plain stinky — get your kitchen in tip-top shape again with Pine-Sol®.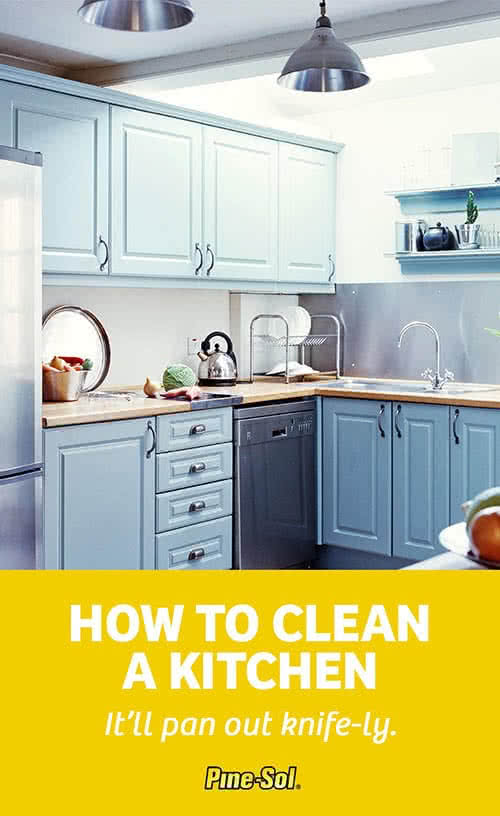 Instructions
How To Clean a Refrigerator
Sticky fridge shelves, forgotten takeout boxes and dirty produce drawers are a sign it's time to scour the fridge. Start with this job, as you'll be unloading those messy surprises on your counters, sink or trash, afterwards.
How To Clean a Microwave Turns out high heat makes for some major mess. Try our Pine-Sol® trick to wipe away crusty food residue inside your microwave with ease.
How To Clean Appliances
Get those appliances gleaming next — think big surfaces like your range and smaller appliances like your toaster and food processor too.
How To Clean Countertops
A Pine-Sol® wipedown takes care of crumbs, cooking splatters and grimy corners for counters that sparkle.
How To Clean a Garbage Can
Nothing says "pristine kitchen" like an empty, de-gunked trash can. It's the perfect finishing touch for to get that Pine-Sol® clean and scent you love.
Ingredients
Pine-Sol® fans love the citrusy Mandarin Sunrise™ and Lemon Fresh scents in their kitchens.

Spray Bottle

Sponge