The Value of

Pine-Sol® Cleaners
You already know about the unmatched cleaning power of Pine-Sol® Multi-Surface Cleaners, but you might be surprised to learn that our cleaners are also great for your budget.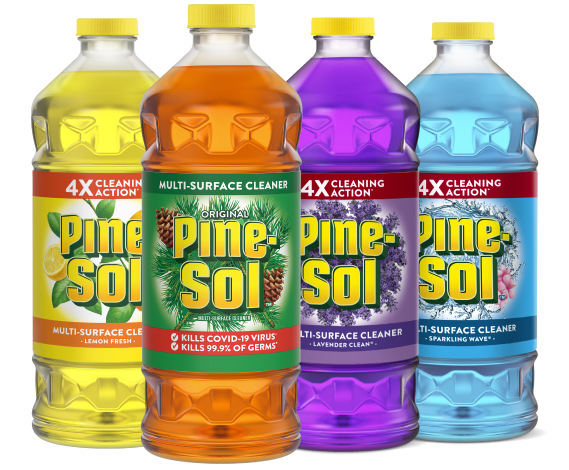 Value Tip #1

Don't Pay for Watered Down Cleaner

Pine-Sol® Cleaners are concentrated formulas that you can dilute for most jobs. For general cleaning, a 24 oz. bottle gives you 12 gallons of cleaning power! Add water to the formula yourself and save.




Value Tip #2

One Cleaner, Many Uses

You could spend big bucks on different cleaners for your furniture, toilet, floors, counters and appliances. With Pine-Sol® Multi-Surface Cleaner, you only need one cleaner to fight dirt, grime and grease, and deodorize all of these surfaces throughout your home. Easy for you, and easy on your wallet.

Value Tip #3

Cleans and Deodorizes

No need for air fresheners, scented candles or deodorizing sprays: Pine-Sol® gives you both a great clean and a great smell. It gets your home spotless while leaving a refreshing scent that tells visitors you've been busy.

Value Tip #4

Pick the Right Strength for You

You can mix Pine-Sol® with water at different strengths for different household needs, unlike a premixed spray. You can tackle any challenge, adjusting your cleaning power each time.

Value Tip #5

No Special Tools

Pine-Sol® Multi-Surface Cleaner works with everything from rags, mops and brushes to microfiber cloths and paper towels. You don't need to buy fancy new cleaning utensils or gadgets: you can use what you already have in your home.

Value Tip #6

One Time Around

With the power of Pine-Sol® Multi-Surface Cleaner on your side, you only have to clean once to get the job done right. No need to go back over your hard work, saving you time and energy.