How to Clean Concrete Surfaces
Tough Stains on Concrete and Cement Floors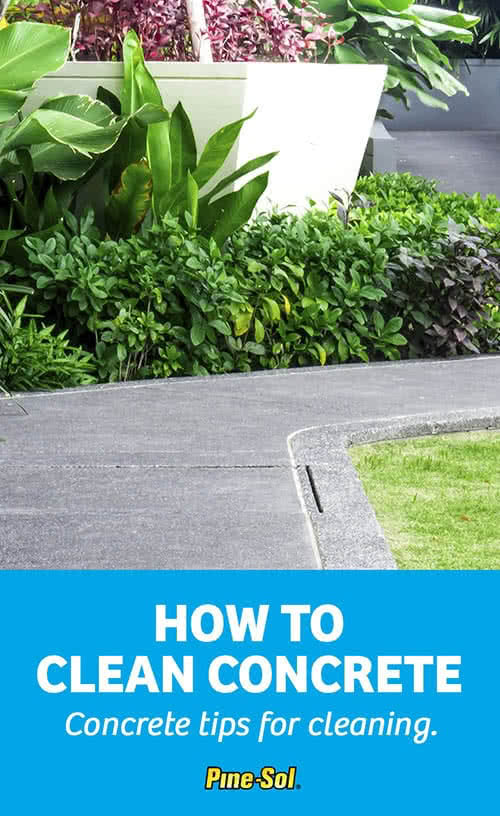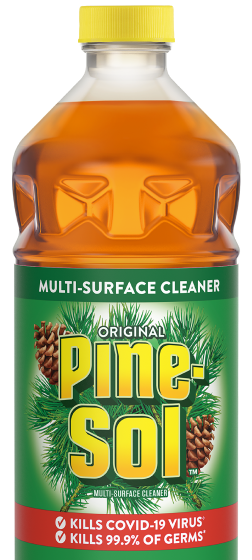 To keep your concrete looking good and free of stains, there are a few best practices to keep in mind when you want your concrete surfaces looking great. Cleaning concrete floors is similar to cleaning cement and other similar surfaces. Learn how to clean concrete with our easy tips.
First, a yearly scrub for your concrete and cement floors goes a long way. How you choose to clean your concrete depends on the stains. The best way to clean concrete is with a cleaning concentrate once every twelve months (or even twice a year). This way you'll avoid a buildup of grime and tough concrete stains that could require a professional cleaner down the road.
All you need to clean concrete is a bucket, a cleaning solution like Pine-Sol®, a scrubbing brush, water and a bit of elbow grease. The good news is that you don't have to be dainty with concrete or cement flooring. They are tough surfaces.
How to Remove Stains from Concrete & Other Surfaces
The bad news is that concrete is porous and cleaning concrete stains can be tough. Concrete has many pockets that capture dirt and mold, creating stains. Unsightly grease, oil and rust are some of the toughest stains to remove from concrete floors and how you choose to clean the concrete stains depends on the degree of the stains and type of flooring.Whether you're cleaning concrete or cement floors, or trying to improve your driveway stains, there are cleaning solutions that can help. The good news is that it's straightforward to remove stubborn concrete and cement stains from your patio, driveway, garage or other concrete surfaces. We cover the tools and how to clean and remove tough stains from concrete floors with the cleaning directions below.
Cement Concrete

Steps To Clean

Everyone cleans differently and routine concrete cleaning can ensure your concrete and cement floors remain stain free. Although water can clean concrete surfaces, we recommend using some a quality cleaning product to help maintain cement and keep concrete surfaces clean.
Quickly sweep the concrete or cement clear of clutter and dirt.

Fill a bucket with warm water, diluting about ¼ cup of your preferred Pine-Sol® multi-surface cleaner for each gallon.

Dip a hard brush or push broom in the mixture to give everything a thorough scrubbing. If you have colored concrete or light cement, test a small spot before proceeding.

Scrub down particularly persistent and tough concrete stains with a bit of undiluted Pine-Sol®

Hose down the clean concrete or cement with a bucket of clean water or a pressure washer and let dry.
Cement Concrete
Tools For Cleaning
You don't need much to clean your concrete floors and a good cleaning product can help. Chances are you've got most of these cleaning products already to keep your home and concrete floors looking the best that they can be. With a good concrete or cement cleaning product, removing stains and cleaning concrete surfaces is affordable and doable. A sturdy push broom or nylon-bristled brush.
Pine-Sol® Cleaner
A bucket and some water
If you've got colored concrete or a light colored cement surface — test a small spot before you clean.
Ingredients
Remove grease and grime from concrete and cement with Pine-Sol® Original.

Bucket

Mop
Cement Concrete

How to Clean Concrete Patios & Driveways

Concrete patios and driveways should be cleaned once or twice a year.

Winter weather and debris can leave stains on your concrete and driveways. A good seasonal cleaning can bring your concrete back to life and looking good as new.

The best way to clean your concrete patio or driveway is to remove all plants, furniture – and cars of course – from the area. You may also want to remove any pesky weeds from any edges or cracks at this time.

Follow Steps 1 thru 5 for "Cleaning Concrete and Stained Concrete" (see above).

For how to clean concrete surfaces that are really stained, rusted, or mildewed, use a pressure washer.
Cement Concrete

Why Choose Pine-Sol to Help Clean Concrete?

When you get the urge to spruce up and clean around the house, don't forget your outside concrete surfaces.

You can use Pine-Sol® Cleaners on most concrete floors. Pine-Sol® Cleaners are concentrated formulas that you dilute for most jobs.

For general concrete cleanup, use a 24 oz. bottle of Pine-Sol® for 12 gallons of cleaning power.

Make your Pine-Sol bottle last longer by adding water to the formula. Use your Pine-Sol cleaning solution to clean floors and other areas around your home, including hardwood floors.

Give your concrete floors a really good cleaning once or twice a year and help them shine.
Cement Concrete

Protecting

Remember, removing stains from concrete and keeping concrete and cement clean gets easier with a regular cleaning routine and maintenance. Be sure to include concrete cleaning into your regular and annual cleaning routine to prevent tough concrete stains.

Check out our Pine-Sol® family of products for more information on our lineup of cleaners. Your concrete will love you for it.